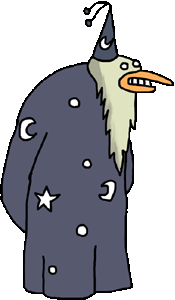 Marvin the Enchanter-Marvin is a bird-like, bespectacled wizard with a white beard famed for his ability to perform magic of an awesome ability. He assists Kaput in trying to take the crown of the planet by magically attaching the sword Exkaliput, a clear parody of Excalibur to his hand. Marvin is also a play on Merlin of King Arthur lore. Marvin the Enchanter is voiced by John Stocker.
Ad blocker interference detected!
Wikia is a free-to-use site that makes money from advertising. We have a modified experience for viewers using ad blockers

Wikia is not accessible if you've made further modifications. Remove the custom ad blocker rule(s) and the page will load as expected.